It has been studied specifically for labor-intensive jobs;
inside the helmet, the head is completely free
to move; additionally, the panoramic visor provides exceptional vision.
It comes equipped with an air flow controller with a safety device. Should power flow to the helmet go below the allowable minimum, it emits an audible alarm.
Additionally, an active charcoal filter is screwed on the air flow controller, which eliminates solid particles and the smell of oil.
Technical data
Filters

One active charcoal filter

Visor

External glass layer, movable
Polycarbonate internal layer, immobile

Power

Compressed air, min. pressure of 3 bar, max. pressure of 5 bar

Air flow

Adjustable, min. 165 L/min, max. 280 L/min

Classification

EN 271 Class III

Size

Soft rubber chest flab
Adjustable for all sizes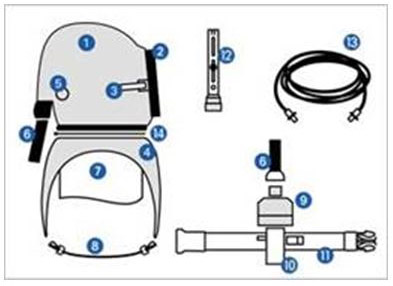 | | | | |
| --- | --- | --- | --- |
| 1 | Head piece | 8 | Elastic |
| 2 | Glass screen | 9 | Filter |
| 3 | Clasp | 10 | Air regulator |
| 4 | Rubber chest flap | 11 | Belt |
| 5 | Outflow air valve | 12 | Flow regulator |
| 6 | Corrugated tube | 13 | Compressed air tube |
| 7 | Elastic neck flap | 14 | Collar |